The Samkhya Karika, synthesised by the sage Kapila, is the oldest of the six important Vedic Darsanas. Yoga and Samkhya are closely related. Samkhya provides the framework and fundamental theory of how to reach liberation and yoga expands on this theory, fills in the details and extensively describes the 'practice'.
In this course, A.G. Mohan will guide us through this rarely studied text and explain the basis and it's connection to yoga.
Your Instructor (s)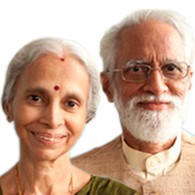 A. G. Mohan was a student of "the father of modern yoga," Yogacarya Sri T. Krishnamacharya (1888-1989), for eighteen years. He is the author of several books on yoga, including Yoga for Body, Breath, and Mind; Yoga Reminder; Yoga Therapy; and Krishnamacharya: His Life and Teachings.
Read more for a detailed timeline of Mohan's studies
Indra Mohan has been practicing and teaching yoga for more than three decades. Along with her husband A.G. Mohan, she continues to study and deepen her knowledge in yoga and related fields. She is one of the few people who received a post-graduate diploma in yoga from Krishnamacharya. Her profound understanding of yoga and Ayurveda and how it applies to all aspects of our health, particularly in the area of women's' health is inspirational.