THIS COURSE IS PART OF THE YOGASUTRAS SERIES
In the fourth chapter of the Yogasutras, 'Kaivalya Pada', Patanjali discusses the main goal of the practice of yoga - kaivalya.

This chapter explains through various sutras the concept of the seen or matter (grahyam) the instruments of perception (grahanam) including the mind and how different it is from matter, and the I feeling (grahita). How Consciousness is different from the mind is also established in this chapter.
Your Instructor (s)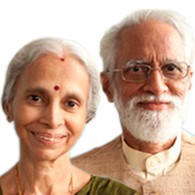 A. G. Mohan was a student of "the father of modern yoga," Yogacarya Sri T. Krishnamacharya (1888-1989), for eighteen years. He is the author of several books on yoga, including Yoga for Body, Breath, and Mind; Yoga Reminder; Yoga Therapy; and Krishnamacharya: His Life and Teachings.
Read more for a detailed timeline of Mohan's studies
Indra Mohan has been practicing and teaching yoga for more than three decades. Along with her husband A.G. Mohan, she continues to study and deepen her knowledge in yoga and related fields. She is one of the few people who received a post-graduate diploma in yoga from Krishnamacharya. Her profound understanding of yoga and Ayurveda and how it applies to all aspects of our health, particularly in the area of women's' health is inspirational.